City Hall (Stopera), Zuiderkerk and University Area Walk
City Hall, Zuiderkerk and University Area Walk

City Hall (Stopera), Zuiderkerk, and University area Walk
1.3 miles / 2.1 kilometres
Right in Amsterdam's city centre, this short walk of less than 1.5 miles will amaze you by its tranquillity. Although you're just a stone's throw from 'the action' you'll feel as if you're in a little village at times. Vary the route according to your mood and energy.
City hall, Stopera and university area walk (follow link to see in Google maps)
Best to begin somewhere along the Amstel river, either at Rembrandtplein or somewhere nearby. After the bridge (Blauwbrug) turn and follow the river in the opposite (N.W.) direction, taking you back into the city centre. This first part, after Blauwbrug (bridge), is mainly car-free.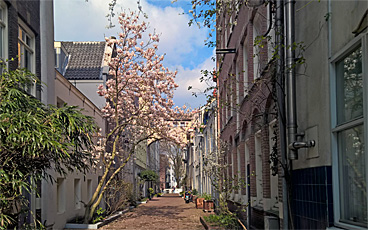 You'll pass lovely pavement gardens along the way, especially around the Verversstraat and after.
You'll come nose to nose with some wonderful trees (elm and copper beach in the Oudemanhuispoort which is a courtyard within the university campus). This courtyard is only open weekdays and accessed by the long stone corridor where there are several stands selling second-hand books; it's open to the public so walk on in!
| | | | | |
| --- | --- | --- | --- | --- |
| good time for this walk | spring | summer | autumn | winter |
| | | |
| --- | --- | --- |
| area of walk | north | |
| west | centre | east |
| | south | |
Places to stop and sup
Café de Jaren

Nieuwe Doelenstraat 20. Open at about 9.30 a.m.
Fantastic big airy cafe with a wonderful outdoor area on the waterfront. You can have coffee in the morning, lunch, tea, drinks or dinner here. They have daily newspapers, friendly service, and it's great for people-watching and meeting up with friends. Lovely laburnum on waterside area in spring (early June)

Restaurant Kitchen & Bar Van Rijn

Rembrandtplein 17. Open from 10 a.m. until late
Welcoming 'grand cafe' on Rembrandtplein which serves everything from a cappuccino in the morning to dinner in the evening. You can sit inside or outside.  It is Van Rijn as in Rembrandt van Rijn. This is a 'grand café' in the 'large' sense; not stately or ostentatious. Big, spacious, and anonymous places can be very comforting if you're a tourist. It doesn't mean that it's unfriendly there, just that you won't stick out like a sore thumb.