Olympic Stadium Loop Walk
Olympic Stadium Loop Walk

Olympic Stadium Walk
3.7 miles / 5.9 kilometres
Lengthy and peaceful waterside walk past a great variety of architecture.
Amsterdam held the Olympic Games in 1928 – if you knew that already, you deserve a lap of honour. The stadium is still standing and still being used. They threatened to knock it down, but this caused such a furore that the plan was dropped. So as well as its green and leafy appeal, this walk has both architectural and historical value.
During this walk you'll explore a less-known area just at the edge of the centre where it's quiet and spacious – wonderful on warm weekends when the city pavements can be thronged with (other) tourists. On this waterside loop of 5 - 6 km, you can walk at leisure, find a bench to sit, read, or dream, while enjoying lovely trees, pavement gardens, and interesting architecture along the way. This route goes around the Olympic Stadium, and the round-trip continues beside the water on the way back towards the city centre. So unless you branch off this main route (see map), you'll be beside water most of the time and it's relatively traffic-free and blissfully so in places.
Olympic Stadium Walk (follow link to see in Google maps)
As usual, you can join the walk wherever you wish, but the Jacob Obrechtplein is a good starting-point as it is in the vicinity of a few different trams, and places with cafés for pre or post-walk refreshments. If you happen to be staying on the other side of the city, it may be handy to use the tram either before or after your walk – but that's up to you.
If you do start on the Jacob Obrechtplein, you will reach the Reinier Vinkleskade in a couple of minutes. Once on this quay (kade), you can go left or right, east or west, although we usually advise having the sun behind you as much as possible. So, if it's morning, go right, taking the route going westwards; if it's afternoon, do it the other way round. It is a circuit so you'll be facing into the sun at some point no matter what direction you go – unless it is raining (in which case you're better off going in to a museum, a cinema or a nice pub).
Once on the Reinier Vinkleskade, heading west, you will soon have the gorgeous Fons Vitae Lyceum ('fountain of life' school) on your right. The school building dates back to 1924, was started by nuns, is still used as a school, even though part of it has been turned into apartments. Continuing on your walk, you have to divide your attention between the leafy waterside on one side and the wealth of wonderful architecture on the other side, plenty to see. This area is mainly residential, it's not that there are magnificent grand edifices along the way, but it's marvellous to see the high standard of Amsterdam municipal housing at that time, about a century ago. Before the Olympic Stadium was built, there was another stadium in this area and many of the street names have a Grecian origin (e.g. Jasonstraat, Argonautenstraat, Parnassusweg). If you have time, you'll enjoy exploring some of the streets bordering the route.
This walk should not be your first choice in Amsterdam but if you've already spent some time walking the centre and are curious about a less touristic neighbourhood, then this is a good idea. However walks like this need nice weather (dry at least) as you won't encounter many pubs, cafés or other shelter opportunites en route.
The 1928 Olympics in Amsterdam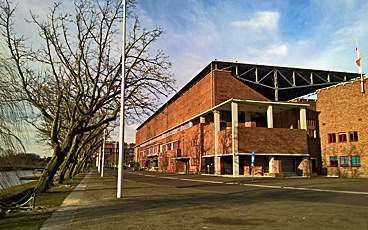 The following site will give you plenty of information about the 1928 Olympics with details of the medals won per country, plus all the relevant details. It's actually fascinating information and brought out the nationalist in me – I discovered that my fellow countryman Pat O'Callaghan won a gold (!) medal for men's hammer throw. On the site you can select on basis of nation or sport. Many of you passing the stadium may hear the distant echo of cheering crowds and wonder how your own country fared in 1928. It's going on 100 years since it took place, no mean feat of organization at that time! I gleaned lots of other information from wikipedia, among other things that Finland came third in the medal rankings with eight gold medals. However, the detail that really made me sit up was the medal won by Italian Carla Marangoni, born in Pavia in 1915, who won silver in Amsterdam at the tender age of 12. As far as I can see, Carla (often written as Clara) who will reach her 100th this year, is the last surviving medallist, so think of Carla if you're in the vicinity.
| | | | | |
| --- | --- | --- | --- | --- |
| good time for this walk | spring | summer | autumn | winter |
| | | |
| --- | --- | --- |
| area of walk | north | |
| west | centre | east |
| | south | |
Refreshments