RAI Exhibition Centre Amsterdam Walks
RAI Exhibition Centre Walks

RAI Exhibition Centre Amsterdam Walks
If you're attending an event at the RAI Exhibition & Congress Centre, you'll be pleasantly surprised by the neighbourhood. The spacious Beatrixpark is right beside the RAI and the wider neighbourhood is quite attractive, complete with interesting architecture, trees, parks & pavement gardens, cafés, shops, pubs, lived-in streets, and a choice of picturesque waterside walks. Also, walking from the RAI into the historic centre is no more than a 30-minute jaunt.
The RAI Complex is set in quite a residential area compared to counterparts in other major cities. You can reach some of our routes from just behind or beside the RAI building – for others you may just need to bite the bullet and cross the busy traffic intersections; there are traffic lights so it's actually no problem!
The River District (Rivierenbuurt)
This is the 'River District' in that the streets are named after famous (and less famous) rivers flowing through The Netherlands. The Scheldestraat refers to the River Schelde; further up there's the Maasstraat (French: Meuse) and the Waalstraat  etcetera – if you didn't pay attention in geography class, it's going to show up now! So the 'River District' is not a district full of rivers but rather one where the streets are all named after rivers.
We have walks radiating out in most directions from the RAI. You can choose between long or short: a park, a residential neighbourhood, a green walk down to the river etc – it just depends on your mood, time, and the weather.
If you're a really keen walker and want to branch out or extend your walks, just click the relevant pages on our site.
RAI Exhibition Centre Amsterdam Walk (follow link to see in Google maps)
1. RAI – West: Around the Beatrixpark — 2 km / 1.2 miles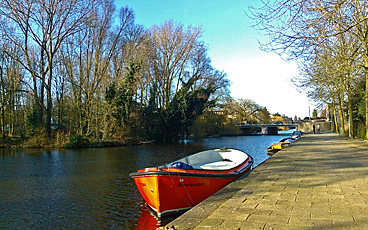 This is both the nearest and one of the shortest walks. Just west of the RAI building, you have the Beatrixpark which is more than 75 years old and includes different landscapes and lots of fine trees. At 2 km you could do this walk in under 30 minutes so if you just want to slip out for a quiet break, this is a good bet.
There is a café restaurant in the park but it's best not to assume it'll be open. Restaurant AS should be open for lunch except on Mondays. To be sure, re-check their website or call them.
This route on the map is just a suggestion. Depending on how you exit the RAI building, head west and you'll see the park in less than 5 minutes.
2. RAI – North: River District and Josef Israelkade — 2 km / 1.2 miles
By just crossing the street in a northerly direction you're in reach of both a lovely tranquil residential area and a vibrant street (Scheldestraat) with pubs, cafés, shops, etcetera. If it's the residential route you choose, you will be amazed, within seconds you'll be in another world.
The architectural quality of the residential blocks in these streets is exemplary: wonderful details and variety, very solid constructions, built for endurance, with beautiful doorways,  windows, and balconies. These buildings are testimony to Amsterdam's enviable housing policy. This district started to be built in the 1920's and was part of a plan to house the city's expanding population. The wonderful architecture is thanks to Hendrik Petrus Berlage and his Amsterdam School of architecture. The variety and quality of the architecture alone will suffice to keep you entertained and walking and you can wander here to your heart's content.
During the war, many jews living in other parts of the city were forced to live here in the 'River District' (Rivierenbuurt) so this area has a rich, but also a very tragic, history.
Our route takes you from the RAI up to the Amstelkade (quay) and Jozef Israëlskade, so, weather permitting, you can get to enjoy some nice waterside walking. These quayside walks (like canals) are just lovely, quiet, tree-lined, with lots of space to sit or stroll. The trees here are stunning: cherry, willow, poplar, plane but lots more too
Depending on the time you have, you can double-back either via the Scheldestraat or the Maasstraat and both of these streets have ample possibilities for food and drink.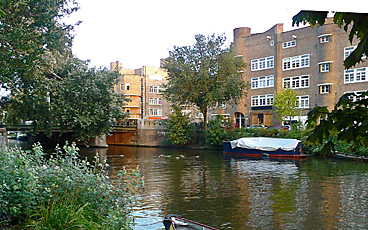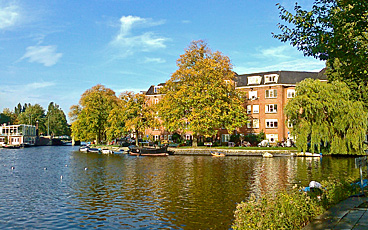 3. RAI – East: Walk to Merwedeplein — 1.8 km / 1.1 miles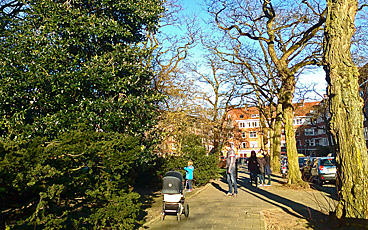 Just east of the RAI complex there's a surprisingly leafy residential area, pleasant for a walk, and with the bonus of a very nice (pavement) café. This is another short walk.
Not only are the streets quiet and tree-lined, all these residential blocks enclose internal gardens that are full of trees and plants as well, deafening birdsong, a pleasant contrast to the traffic in and around the RAI .
The route takes on the shape of an arrow so once leaving the RAI plaza, cross over to the Geulstraat and proceed from there. This would be lovely to do in the evening too after your day is done, if there's still daylight.
Café Blek is at the corner of the Jekerstraat and the Merwedeplein (Waalstraat), a nice spot to sit and watch the world go by.
Anne Frank lived on this square - the Merwedeplein - before the family had to go into hiding in the house on the Prinsengracht, which is now the Anne Frank House. There is a nice sculpture of her on the Merwedeplein. This square is lovely and is uniquely shaped, standing at the arrowhead so to speak.
4. RAI – South-east: Amstel River (s.e) and Amstel Park — 3.4 km / 2.1 miles
Walking (or jogging) south-eastwards to the Amstel River, you have lots of choice and it gets greener and more scenic as you go. This area requires more time so is not suitable if you're under pressure and it's best done in dry & bright weather.
Once exiting the RAI complex, head for Station RAI. At the point where you have two viaducts, choose the left-hand tunnel (not the tunnel for the rail station RAI). You are going under the Europaboulevard road here. Keep to the footpath as there can be droves of speeding bikes, especially at rush-hour. Once through the short tunnel, continue south-east on the Dr. C. W. Ittmanpad. This route will take you all the way to the splendid Amstel River.
This path is named after Cesar Willem Ittman who was shot dead in February 1945, just three months before liberation. More than a hundred resistance fighters were executed during these months in a place at the end of this path, called Rozenoord.
There is a plaque marking the spot in a small grove of trees.
Along this route, there is also a fascinating nursery for municipal trees. You can walk in there and most of the young trees are labelled. If you've been impressed by the variety and quality of trees in Amsterdam, you'll enjoy this little oasis. There are benches too, so you could eat your sandwich here.
Further along, the path borders a small waterway which is in turn the border of a large and historic graveyard called Zorgvlied. At the corner, there's a surprising sculpture of a man sitting at a table. It's an unexpected sight in an unexpected spot and has a light touch.
Once you reach the Amstel River, you'll be smitten. On a serene day it's hard to beat. My favourite personal memory is strolling along this riverbank while a beat-up riverbarge ploughed effortlessly through the water. A sax player was sitting on the prow playing 'So Happy Together' (by The Turtles), it was something else with a capital S.
You can walk along the river, or you can explore the Amstel Park or you can do both. These routes are good in nice weather and wonderful if you bring a sandwich (there are no shops in the vicinity).
Because of the viaducts (for both cars & trains) above, you should go either left or right quickly, you'll be away from the noise in seconds. If you decide to walk back to the RAI without doing the Amstel Park, you just take a left, along the river. This is a lovely verdant stretch of the river, which is mainly free of cars. You'll see some magnificent residential villas, and 'if only' houseboats on the opposite bank. As you walk north-east along the water's edge (literally!), you will also pass the Zorgvlied cemetery which dates back to 1870 and has some beautiful trees (oak, plane, sequoia, acer, to name but a few).
Turn left again, leaving the river, on the Zuidelijke Wandelweg which translates as the south walking-path. After that, you can go straight back to the RAI or follow our route which leads you on quite a merry dance through some residential areas with lovely architecture. This will also get you back to the RAI but in a more peaceful and appealing manner than the direct route.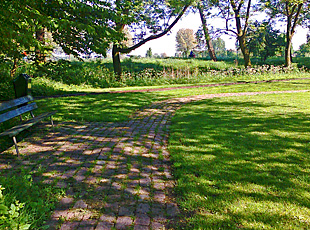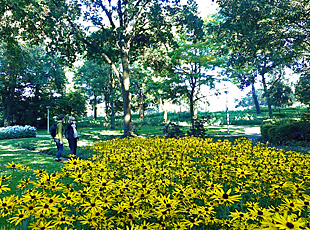 Amstel Park Walk
The Amstel Park, although quite linear and seemingly lackluster, is wonderfully tranquil and people aren't even allowed to cycle here!! There is a fantastic variety of trees, many of which are labelled. You will soon start to value this park's special qualities as you walk under massive cherry, poplar, swamp cypress, hazel, lime, and a multitude of other species. In early spring, the cherry blossom and rhododendrons are a tonic, in autumn it's gold, and even in winter it's great.
In the Amstel Park there is a recent memorial to the Rozenoord tragedy. You will see about one hundred empty chairs, set randomly in a secluded spot on the grass between the trees. The type of chair relates to the age of the person who was executed.
There is a miniature train chugging around the park, great if you've got children in tow. There are other attractions for children too including lots of small animals in a children's farm (miniature goats, rabbits, ponies, pigs, hens). Also a playground with a variety of equipment. Elsewhere in the park there are more animals, sheep & cattle, but marsupials and llamas too.
Amstel Park Info:
The café in the park is only open in the summer but there are public loos, which are open.
Amstel Park is open from early morning (about 8 a.m.) until just before sunset.
Pancake / Crepe Restaurant De Hop: Open: 10 - sunset (April – October) but may be closed due to bad weather or if booked for a party. It's a nice café in a stunning setting but opening hours not guaranteed.
(Note: The Amstel Park loop adds an extra 2.5 km to the walk).
So the area around Amsterdam RAI is not bad at all. My personal experience in other cities was often frustrating, where these complexes often stood in desolate and grim areas with only one or two exhorbitant restaurants in the vicinity and not a verdant park within miles.
| | | | | |
| --- | --- | --- | --- | --- |
| good time for this walk | spring | summer | autumn | winter |
| | | |
| --- | --- | --- |
| area of walk | north | |
| west | centre | east |
| | south | |
Places to stop for a drink or food along the way:
Restaurant AS

Prinses Irenestraat 19 (Lunch: 12 - 2:30 pm. (no lunch on mon.) Dinner: 6:30 - 9.30 pm. (mon. till sun.) )

Café Blek

Waalstraat 48 (Open every day from 11:00)

Pancake / Crepe Restaurant De Hop

Amstel Park (Open: 10 - sunset (April – October) but may be closed due to bad weather or if booked for a party.)