Trees of Amsterdam

Trees of Amsterdam Walk
(4.6 miles/ 7.5 kilometres)
Here's quite a leafy walk to acquaint you with some Amsterdam trees. There are too many interesting trees to include in one walk, but this will be a good intro. It's a substantial distance (4.6 miles/7.5 km) but you can cut it shorter if you've had enough.
Trees of Amsterdam Walk (follow link to see in Google maps)
You'll be able to admire some fine Amsterdam architecture along the way: the Rijksmuseum, canal houses, churches, Carré Theatre, Skinny Bridge, Hermitage Museum, Hortus Botanical Garden buildings, Portuguese Synagogue, University buildings… and lots more.
Begin wherever you like but the monumental plane trees near the Leidseplein (Leidse Bosje) might be a good spot. Continue in an anti-clockwise direction, towards the Rijksmuseum and follow the route from there. You'll encounter lots of plane trees, a huge poplar, Caucasian wingnut, elms, Chinese scholar tree, catalpa, copper beech and lots more.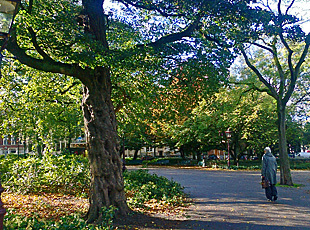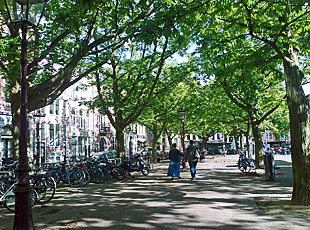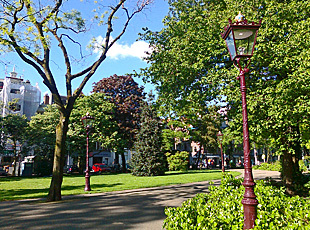 | | | | | |
| --- | --- | --- | --- | --- |
| good time for this walk | spring | summer | autumn | winter |
| | | |
| --- | --- | --- |
| area of walk | north | |
| west | centre | east |
| | south | |
Places to stop for food & drink
Gartine, Taksteeg 7

(Open Wednesday – Sunday 10.00 – 18.00)
Nice small café in little alley in the midst of hectic downtown. They have tasty dishes for both breakfast and lunch including fresh produce from their own veg patch.

Kapitein Zeppos, Gebed Zonder End 5

open daily from about 12 midday
Interesting music café where they serve meals. It's tucked away down this little alley so it's nice and quiet. You may get a table outside in the sun, or in the shade; inside is nice too.

Café de Jaren, Nieuwe Doelenstraat 20

(open daily about 9.30 a.m)
Lovely airy 'grand' (as in big) café which is nice both inside and out. You can read the newspapers there or just watch the world go by. They have good cappuccino and you can get nice sandwiches (broodjes) etc. for lunch; good dinner menu too.

Dignita Hoftuin, Nieuwe Herengracht 18A (or walk thru' Hermitage)

(open Monday – Saturday from 9 a.m. till 7 p.m.)
A wonderful green oasis which is just behind The Hermitage. You can stop for coffee/tea; have lunch or drinks here.

Café Marcella, Amstelveld 21

(open daily from morn till night except Sunday evening)
The nicest place to sit outdoors on a warm evening. You can get coffee in the morning too, and watch the world wake up.