Trees

Trees in Amsterdam
Nowadays, most visitors make for H&M or Gucci, but I'd usually prefer to be pointed towards a city's finest trees. Trees are rarely mentioned in the guidebooks.
There are more trees in Amsterdam than in most other European cities. The amount of trees is huge and so is the variety. It's the Low Countries' answer to the Forty shades of green, maybe that's why we feel at home here.
A 'short' list would include the following:
Acacia – False Acacia/Black Locust (Robinia pseudoacacia)
Alder (Alnus)
Ash (Fraxinus)
Beech (Fagus sylvatica); Copper Beech (Fagus sylvatica purpurea)
Birch (Betula)
Catalpa (Catalpa)
Caucasian wingnut (Pterocarya fraxinifolia)
Cherry (Prunus)
Common whitebeam (Sorbus aria)
Elm (Ulmus)
Hawthorn (Crataegus)
Honey Locust (Gleditsia)
Horse-chestnut (Aesculus hippocastanum)
Japanese / Chinese scholar tree (Sophora japonica, Stryphnolobium japonicum) aka Pakoda tree
Lime (Tilia)
Maidenhair tree (Ginkgo)
Maple & Sycamore (Acer)
Oak (Quercus)
Plane (Platanus)
Poplar (Populus)
Rowan (Sorbus)
Swamp cypress (Taxodium distichum)
Tulip tree (Liriodendron tulipifera)
Water cypress (Metasequoia)
Willow (Salix)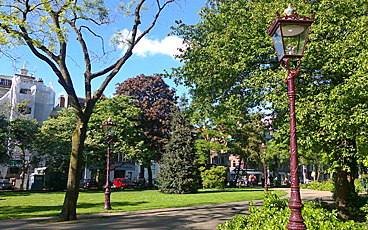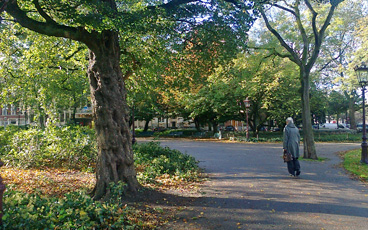 We can be very grateful for the vision and conviction of those who have upheld this tree-planting policy over the years.
Trees flourish in Amsterdam, they look green and healthy and strong. The proximity to water must help, so that even during summer heat waves there's no lack of water around their roots. The soil is probably ideal as well, it's clay and sand as far as I know; so it's good for both growth and drainage.
As well as helping to shield us from inner-city noise and pollution, the trees provide wonderful breezy shade from the hot summer sun. They give birds shelter and function as a sort of larder, full of insects and goodies. The birdsong in Amsterdam would diminish if there were fewer trees.
Woe betide anyone who thinks they can hack down or damage a tree, the law is very protective of trees, as is the city council. I read somewhere that your hand would be chopped off if you cut down a tree in Amsterdam during the middle-ages.
Because the terrain is flat as a pancake, large trees can be admired from great distances in Amsterdam. Standing somewhere in the city, you may spot a huge copper beech or elm towering above the roofs in the distance, or a line of poplars, or some majestic plane trees. This 'treescape' in Amsterdam is a year-round delight.
Elm (Ulmus)

Apparently there are more than 75000 elms growing in Greater Amsterdam of which there are 40 different elm species. In the centre of Amsterdam, there are more than 5000 elms. So if elms are your thing, you may come across Wych elm (Ulmus glabra), Huntingdon's elm (Ulmus x Hollandica 'Vegeta'), Dutch/Belgian elm (Ulmus x Hollandica 'Belgica') and many more. Elms thrive along the canals and in many of the streets and parks. So you'll see elms beside the Amstel river, the Prinsengracht (canal) and Herengracht, the Weesperzijde, and the Reguliersgracht for example.

Here's a link to a site dedicated to the elms in Amsterdam. It gives exact species for each elm on the map and the size of its trunk.

Plane (Platanus)

The plane tree is a signature tree in Amsterdam and after the elm it is the most common. The London plane (Platanus x hispanica) grows in parks and greens, and along quaysides and other waterways (but not on the main canals). Many grow to a ripe old age; some being well over 100 years. You'll find some enormous specimens growing near the Leidseplein in the Leidse Bosje (little wooded area, near the Leidseplein), these you just have to see. I note that the London plane is also called Platanus x acerifolia, all very confusing indeed.
Plane trees enhance many squares and green areas such as the Weteringplantsoen, Rembrandtplein, Thorbeckeplein, Roeterstraat, Prof.Tulpplein, Nicolaas Witsenkade. If you're not strong on walking, you can see some wonderful plane trees in the heart of the city (near Leidseplein or near the Rembrandtplein).

Lime (Tilia)

Having walked several of the canals, and marvelled at the elms growing along the banks, you may suddenly gasp in shock when you encounter a typical canal with a different atmosphere. You've probably arrived at the Keizersgracht, where lime trees grow. You may notice the change immediately. It's a different kind of green and where elms are bare down to the ground, lime trees come with loads of 'baggage,' - gorgeous sprigs and bunches of healthy fresh leaves bursting from their trunks. Incidentially, I find 'lime' tree a very confusing name, people from other parts of the world expect it to be a fruit tree, it's logical.

Poplar (Populus)

Poplars grow to staggering heights in Amsterdam and, as far as I can see, there are two main species:

Lombardy poplars (Populus nigra 'italica')

are recognizable by their wonderful plume shape and great height. They look magnificent in the distance and grace many a vista. In summer they are green and provide a safe haven for hundreds of little birds. In autumn and winter the tree turns a marvellous tint enhanced when it absorbs the languorous low rays of the setting sun.

Hybrid black poplars (Populus x canadensis)

called Canadian poplar when translated into Dutch. These are awesomely massive and to me they seem like the largest trees in the city, correct me if I'm wrong. There are lots of these poplars in the Vondelpark, but also in Sarphatipark, Oosterpark and the Amstelpark. There's a wonderful hybrid black poplar (Populus x canadensis 'Serotina') in the Eerste Weteringplantsoen (not far from the Rijksmuseum). Sadly it has lost a few limbs lately but it battles on.

Caucasian wingnut (Pterocarya fraxinifolia)

I had never encountered this tree before I came to Amsterdam and it actually took me years to find out what it was. The gorgeous Amstelveld square is one place where you'll be smitten by their unique foliage and shape. In the winter they are fantastic too; their bare, raised branches resemble a troupe of 'jiving' candelabras. About forty five of them grow on the Amstelveld in a cloister-shape of double rows, but you can see Caucasian wingnut on the Frederiksplein too and they grow in many other Amsterdam parks and greens. There's a huge one in the Wertheim Park, opposite the entrance to the Hortus Botanical Garden.

Pagoda tree, Japanese / Chinese Scholar tree (Sophora japonica, Stryphnolobium japonicum)

These are quite similar to acacias; there's a magnificent pair at the intersection of the Falckplein and the Reguliersgracht.
Their trunks have seats built around them making this a perfect spot to stop and wonder. Their lovely, lofty aspect and airy foliage will refresh you, physically and mentally. Maybe you'll be inspired to great things here.

Willow (Salix)

In the Dutch countryside, willows are an essential part of the landscape. In Amsterdam, they are less common and the main species growing here is the weeping willow. You'll see them in the Weteringplantsoen near (diagonally opposite to) the Rijksmuseum, and also along the water near the Hortus Botanic Garden and behind the zoo.  Interesting too is that they translate as 'sad' willow in Dutch, in other words, weeping as in sad.

Various other trees (see list)

There is an abundance of other trees growing in the city, I have just homed in on a few here. If you wander around, you will find yourself in streets of tulip trees or ginkgos, wonderful in the autumn. There are scenic squares of chestnuts and surprising little groves of cypresses growing near the water.
At the edge of the city there are some fantastic parks: Amstelpark, Flevopark, Oosterpark, Westerpark, and Noorderpark among others, all with wonderful trees. There are also cemeteries (Oosterbegraafplaats, Zorgvlied) where you can walk quietly and see some superb trees as well.
Outside the city there are beautiful woods with beech and oak but the city itself favours elm, plane etcetera.
If you love trees and enjoy taking a few hours to enjoy a city's trees, then here are a few 'must sees' in Amsterdam:
Plane trees (4 at least) in Leidse Bosje, just beside Leidseplein. One has the famous little woodcutter sculpture on its lower branch
Variety of trees including plane, poplar, willow in the Weteringplantsoen diagonally opposite to the Rijksmuseum.
Wonderful arc of plane trees on Nicolaas Witsenkade (quay)
Variety of trees Frederiksplein (see the wonderful 'Fallen tree' memorial to Wally van Hall)
Sophora japonica, corner Falckstraat and Reguliersgracht
Caucasian wingnuts Amstelveld
Elm trees along the Amstel (and canals)
Variety of trees in Hoftuin, Hortus, Hortusplantsoen and J. W. Overloopplantsoen, followed by Wertheim park
Monumental elm & copper beech in Oudemanhuispoort, growing there in beautiful surroundings
Here are links to a few fantastic municipal websites giving thorough information about trees in the city of Amsterdam.
More power to you if you've read this far, but at this stage, you'll all be clamouring to hurl my mistakes back at me.
We will be more than happy to accept corrections and suggestions and we reiterate that we just love trees but have no scientific background, this will be more than obvious.
Please mail us at the address on the contact page - because of the scourge of spam, we have not made this address active, so you just need to type it in your mail program.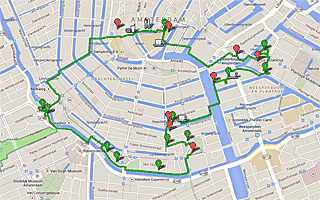 (4.6 miles / 7.5 kilometres)
Here's quite a leafy walk to acquaint you with some Amsterdam trees. There are too many interesting trees to include in one walk, but this will be a good intro. It's a substantial distance (4.6 miles/7.5 km) but you can cut it shorter if you've had enough.
If you need any guidance with the 'Trees of Amsterdam walk', please mail us on time and we will be delighted to help.